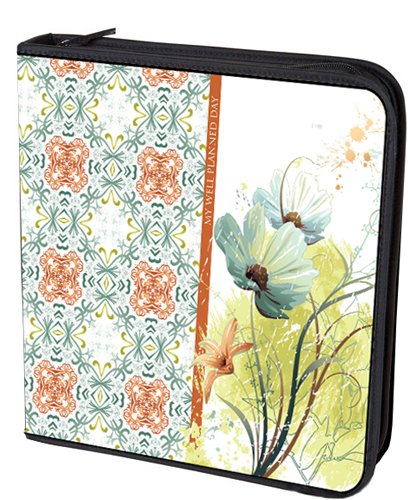 As I write this I'm carefully watching the clock, doing laundry and researching car activities for my littlest three kiddos. Scary part is, that's just how summer has looked for me this year, doing about 10 things at once. Keeping everything on track is seriously a challenge as summer flies by so quickly.
Thursday we leave for the lake for a week, everyone is very excited. In the meantime I have ten times the normal laundry to get done in order to pack everyone, and on top of that it's football camp week for CJ meaning morning and afternoon football sessions at the high school (thus the watching of the clock). You get the picture… and that's just ONE part of a week this summer.
I can't help thinking that in the midst of it all there are likely others that are in the same boat and wondering how on earth to keep it all straight. So, today, here's a fun idea for those of you trying to juggle everything to do with managing a large (or frankly, any size) family.
The Family Binder
I'm in the process of building a family binder, something that one of my very best friends Jodi uses to manage life in general with her very active family. As she organizes the household as well as the activities of 4 kids, this book has been a lifesaver for her, and is something that I'm going to also try to implement.
As much as I'd like to think I can do everything electronically, that's simply not the case. Too much of life with kids still requires actual paperwork be handled and I'd been noticing that trying to manage everything on my devices simply wasn't working. So, when I saw her book I was seriously inspired!!!
She created her book with sections for specific parts of life… there's separate sections for sports, school, vacation and even bills. That said, she mentioned that it may be easier for me to have a section for each child instead. So, I'm going to try it a few ways, for now my plan is to build my binder in a similar fashion to hers (by section) but to have a clear plastic sleeve for each child within certain sections (school and sports particularly).
The Bag
Part of the key to this system is to actually carry the binder with you EVERYWHERE, this means that although the idea of a smart phone makes sense size wise, we have to go back to what works and I'm sorry to say, the paperwork they send home from school is always 8 1/2″ x 11″ paper!
Jodi actually carries her binder with her everywhere in her purse, for those of us who do not have a purse this size, we may want to simply consider the next purse purchase we make. Her purse isn't crazy huge, I promise you! In fact, the purse I'm currently using actually looks a bit bigger to me than hers it's just structured differently so I would simply need to find one that's taller.
Building the Binder
Basically you're going to want to build it to suit your needs (and your bag haha). If you can fit a few pocket folders and/or plastic sleeves that can be marked on with either dry erase or permanent marker then you're doing great.
Make sure you have places for papers, calendar and more so that you can go back and access things as needed. There's a lot of options here and I know I'm not giving a lot of specifics, but the point is more to throw out the idea and let you take that and run with it to create something that works well for your family.
You can't change a lack of organization at school or at the sports level. You can control the clutter of paper, calendar and mental appointments that can so quickly get overwhelming though. That's the whole idea with the Family Binder and I hope this inspires you to build something that sets your mind at ease!