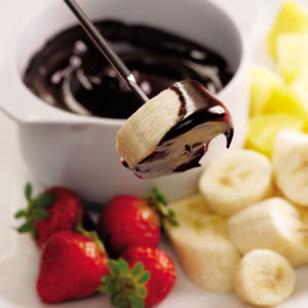 As Valentine's Day quickly approaches, I wanted to share some super fun ideas that aren't going to completely ruin your healthy eating plan! So I went to work searching the internet and since I plan to do a Fun Fondue night here at home with the family for Valentine's Day, this recipe I found for Chocolate Fondue from Eating Well was perfect!
If you're a little daunted by the idea of making fondue for your family, don't be! You don't have to have a fancy 1970's fondue set, a crockpot (or three in my case) and bamboo skewers work perfectly well.
Note that this recipe is only for 2 servings so be prepared to adjust accordingly. Also, I know that the recipe calls for heavy cream, but you can totally substitute in a healthy non-fat yogurt.
I recommend bananas, strawberries, graham crackers, pound cake, angel food cake and any other fruit that can be portioned well for dipping and tastes great with chocolate.
Chocolate Fondue – Eating Well
From EatingWell: January/February 2008
The chocolate will stiffen if it gets cold, so enjoy it while it's still warm. Skewer and dip anything you like—pear slices, dried apricots, even marshmallows.
2 servings | Active Time: 15 minutes | Total Time: 15 minutes
Ingredients
3 ounces bittersweet chocolate, chopped
2 tablespoons heavy cream
1 tablespoon brewed espresso, (see Kitchen Tip)
1/2 teaspoon vanilla extract
Pinch of salt
1 banana, peeled and cut into 8 pieces
8 1-inch chunks fresh pineapple
4 strawberries
Preparation
Place chocolate, cream, espresso, vanilla and salt in a medium microwave-safe bowl; microwave on Medium, stirring every 20 seconds, until melted, 1 to 2 minutes. (Alternatively, see "No Microwave?" below.)
Pour the chocolate mixture into a serving bowl. Serve with fruit.
Nutrition
Per serving : 345 Calories; 19 g Fat; 10 g Sat; 2 g Mono; 20 mg Cholesterol; 54 g Carbohydrates; 4 g Protein; 7 g Fiber; 81 mg Sodium; 382 mg Potassium
3 Carbohydrate Serving
Exchanges: 2 fruit, 1 carbohydrate (other), 4 fat
Tips & Notes
Make Ahead Tip: Equipment: Fondue forks or bamboo skewers
Kitchen Tip: If you don't have an espresso maker, look for instant espresso powder at your supermarket.
No Microwave? Place chopped chocolate in the top of a double boiler over hot, but not boiling water. Gently stir until almost melted. Remove from the heat and stir until the chocolate melts completely.
Image from Eating Well Chocolate Fondue page