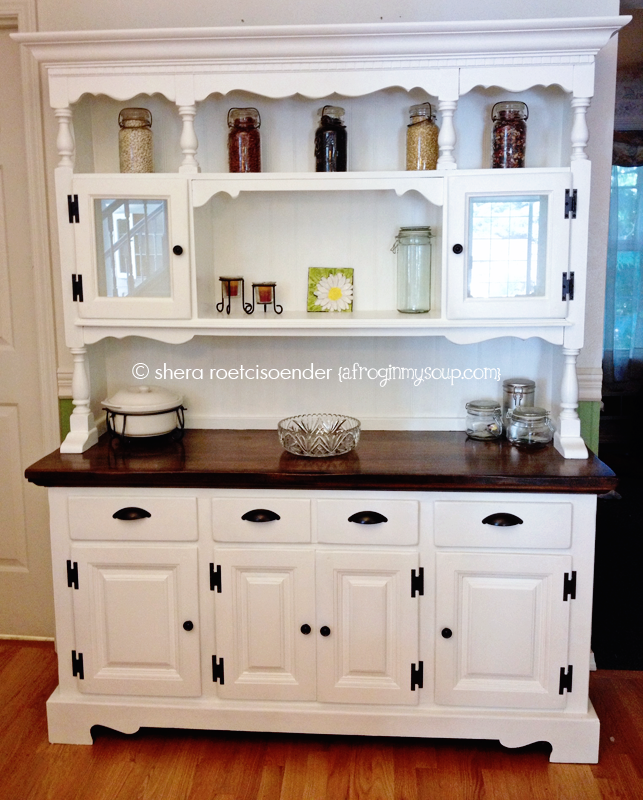 Every once in awhile we decide to give our handy makeover skills a workout on a piece of furniture, a room, etc. This last couple weeks it has been a Kitchen China Hutch project that we stumbled upon the most amazing deal on.
With the new house, we love doing little projects to really make it our own. From wall colors to new furniture, there's already been many changes, and many many more to come. That said, the budget is nearly non-existent for new things, so we look for deals for anything we know we want for any particular area in the house.
In this case, we have been looking for a kitchen hutch or cabinet for one particular wall in the Kitchen eating area. It had to be wide, but not too deep to fit on a particular wall in our kitchen eating area between the tv room and bathroom/laundry room.
Craigslist (such as it is) has been a lifesaver with most of the items we have needed to get to put in the larger spaces we have, So when we saw the hutch listed there for $1 (YES you read that right), we couldn't resist and called right away.
Ready to see the before and after? Cue drum roll please…..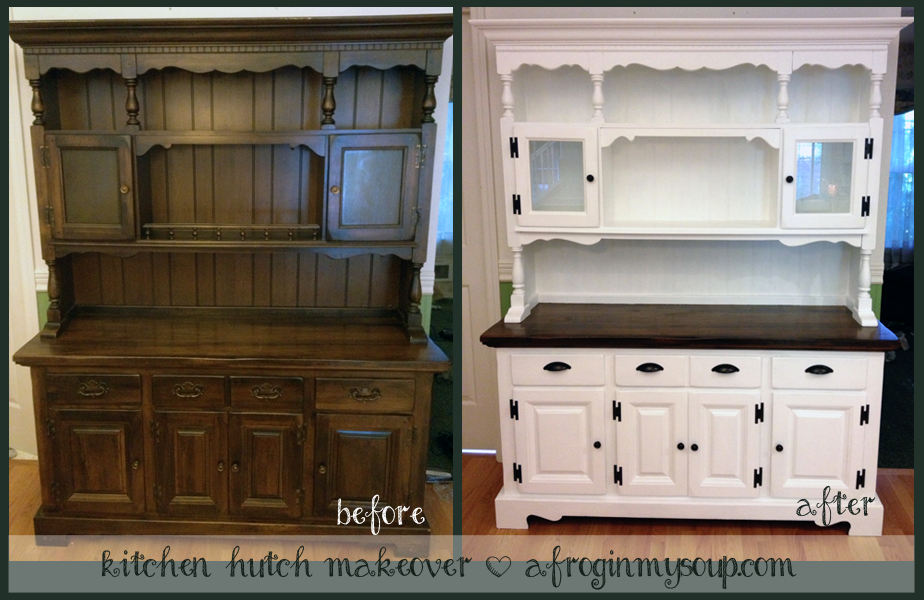 So hubby and CJ headed down to pick it up and once they got there, the ladies (the daughter was helping her elderly mom get rid of much of her unwanted furniture as she prepared to downsize) decided to throw in a few extra pieces for the guys to bring home as well (apparently there will be more makeovers in our future!).
What did we do?
Wiped it all down and let it dry.

Taped off the top to leave it the original color
Covered the rest of the piece with a primer that does not require sanding (water based)
Painted the unit with about 3 coats of white paint (leaving plenty of time between coats to dry).
Painted the old hardware with black paint.
Purchased new handles for the drawers.
Had new glass cut for the side cabinets (at Lowe's).
Materials Used
Primer – no-sand water based

Paint (Satin latex for unit and Spray type for hardware) – we only needed about a quart, a full gallon would be far too much for this
Hardware – we reused and painted most of the old hardware and purchased new drawer pulls from Lowe's
Glass – had cut to fit and purchased at Lowe's
Painter's Tape
Paint Brushes
This project was insanely cheap, the unit fits perfectly in the desired location and it turned out absolutely beautiful. I don't think either my hubby or myself truly expected the results we got, but we are very happy with it!