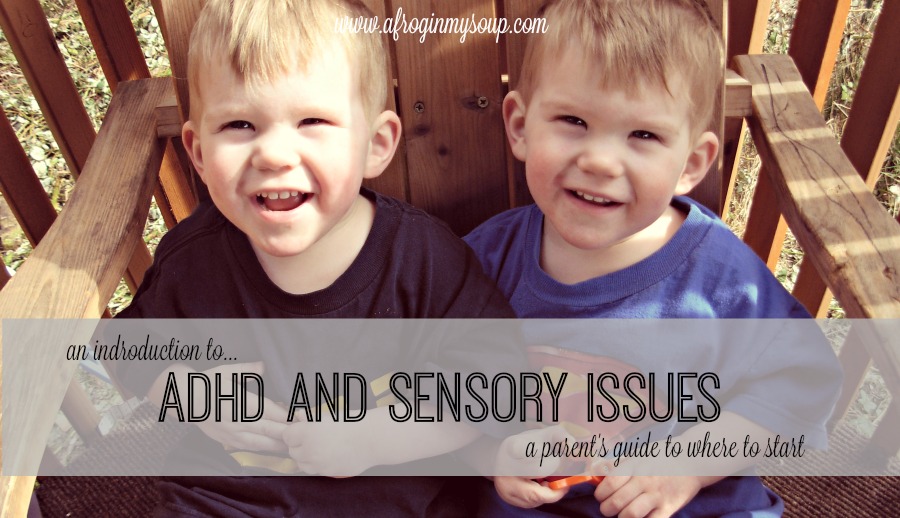 If you have a child with ADHD, anxiety disorder, OCD or bipolar disorder, you may or may not fully realize that your child likely falls into the "sensory kids" category. I have been reading and researching, nearly daily for a few years now, on alternative methods to manage my two kiddos with ADHD (I personally would like to exhaust all alternative options before going to medication), but despite all those countless hours, this discovery is one I literally stumbled upon not even on my own, and the connection blew my mind just a little.
Although each of those disorders is unique in their own way, they all share one big similarity – one that can make all the difference in the world for day to day function and management – they all share challenges in how these children process and absorb the world around them. Each child may have a very unique trigger, the bottom line is that offering them alternate sensory activities or stimulation can be key to helping them cope in their everyday environments.
While there are some areas and fields of professionals in the US that are over-diagnosing Sensory Processing issues and some claim it is just the new ADHD fad, there is always a fair amount of truth to be found within it. Are there children that have behavioral issues because of the modern parenting trends and lack of discipline? Are there teachers that are looking for a way to medicate or explain away any issues within the classroom? Yes and Yes, definitely there is.

The trick is to distinguish between what is normal childhood behavior and what is not. For myself, it's as though many missing pieces to the puzzles that make my youngest 2 sons tick have been handed to me! It's not an exaggeration, it's something that makes my relationship with them so much happier and navigable, and that should say something since it is so completely different than all FOUR of my other sons!
I had always known that most children in the Autism spectrum, and of course kids with Sensory Processing Disorder (SPD; sometimes called Sensory Integration Disorder) were sensory kids, but realizing that my own little boys are as well has opened up a whole new world. I felt like I had somehow missed the boat… and the thing is, I know I'm not alone.
Here's the craziest part of all, I never would have gone down that road if it weren't for the fact that one of my (then) 8 year old twins found a rice bin sitting around the house, opened it up and began playing in it. He sought out his own sensory comfort and received it. I watched his reaction to the simple act of playing in the rice, and a massive magnificent lightbulb started flashing like crazy in my brain. Talk about an "Aha" moment!
Since then I have been neck deep in researching, planning and conspiring to create better tools and environments for my little guys'. The most exciting part is that I will be integrating various sensory activities and items into their day to day learning environment (a whole different topic, but yes, I am 100% responsible for that department this year as well). I am so excited for the possibilities for them!
I seriously feel like I have walked smack into a whole new and very big world.
It's amazing and overwhelming and fascinating all at the same time… and did I mention that it's just simply huge?
What is Sensory Processing
The basic idea of sensory processing is how we physically and emotionally and mentally perceive and absorb the various stimulus around us at any given moment. The act of eating a sandwich for example – integrates the use of many different senses. Most of us would never ever stop to consider what that means, there's the smell of the sandwich, the texture of it (both in our hands and in our mouth), the coordination of eating. Each individual step is comprised of it's own unique sensory input and some people (primarily children) just are not equipped to handle quite that much all at once.
It makes everyday activities look a lot different from how many of us see it. For some children, it's simply an underdeveloped sensory reaction or an immature one. Give these kids a little more time, a lot of patience, and some tools for coping, and they will often eventually outgrow most or all of it. For other children, they will always have varying degrees of inability to cope with certain sensory experiences. For these children, finding and providing the tools and experience to self-cope is essential.
How Do I Know If my Child has It
I strongly believe that any aware parent who watches and understands their child's behavior is likely to see some definite signs once they do a little bit of research. I discovered all of this by one simple act my own young child took to self-correct a sensory issue he was having one day.
That said, sensory issues and exactly which ones your child has, as well as how best to assist your child, is a process best determined by a professional occupational therapist (OT). Preferably someone who has equal knowledge of, and experience with, all of the various disorders. We have encountered far too many people through the years who have their pet diagnosis and simply know little to nothing about the rest of it. We had never ever heard that there are often correlations between ADHD and sensory issues. Learning that although SPD and ADHD are two very separate disorders, they do have a number of similarities and that ADHD presents it's own set of sensory needs was definitely news to me.
As I have always said, balance is forever the key in life! Always take a step back and evaluate any diagnosis, suggestions or treatments that are presented to you. Do they feel right? Are they balanced? I your gut tells you something is off, listen.
Note: Your child doesn't necessarily have to have ADHD or Autism or any of the other many "disorders" that often go hand in hand with sensory issues. Likewise, if your child does have any of these issues that doesn't necessarily mean that they have true sensory issues. The basic fact is simply this: most children with one of the many sensory related disorders tends to also have sensory issues to some extent.
What Tools are Available
Here's the part that shocked me the most – there is literally an entire world of resources and tools available to us as parents and educators to help deal with sensory kids and help them cope/overcome their sensory issues. You just need to know where to begin and literally the floodgates will open around you.
How Do I Know Where to Begin
While there are plenty of places you can go to get your kiddo tested, many of us simply don't have that option. Trial and error can be a little time consuming, but can also be oh so very worth it. Much of what you can try is simple and affordable (rice bins and sensory bottles as well as sensory dough and other types of activities for your child, all of which can be made with simple products you likely already have at home).
As a beginner, I am going to list some of the books and websites that really opened up this amazing and useful world to me. Even if you're a skeptic, you are likely to see things that will click in your brain that you want to try with your child. Since all of the tools are fun and simple, it won't hurt anything to try and just see what happens.
Books (these include affiliate links: this costs you nothing)
Please note: there are many books out there with information, these two seem to overwhelmingly be the place to start along with the websites I will also recommend below. The object here is to inform and equip you with basic information to get you pointed in the right direction if you feel this fits your child, not to overwhelm you with tons of information!
Websites
Lemon Lime Adventures: One of the first and most useful sites I found on sensory stuff for kids. It was truly eye opening and the great thing is her various articles and projects link to many other like-minded sites. This website pointed me in all the right directions to start this journey and I have to list it first for that very reason. I specifically recommend that you check out all of the SPD specific articles as well as her sensory play category!
The Out-of-sync-Child: This site goes along with the book of the same title above, you can find a few more articles and links here.