One of the biggest frustrations I have had when it comes to all my sons' educations (regardless of the type of school they were in) is memorizing the times tables. If I could just snap my fingers and know that they were done with the struggle, I totally would. Worse yet, I never fully grasped it all as well as I should have either. SIGH!
Add in any type of memory/processing issues (which THREE of my sons have!) and suddenly you're in the mire of endless frustration for kiddos, sometimes to the point they want to just shut down and disappear into their own minds.
If you are experiencing anything similar as an educator or parent with a frustrated child who is attempting to memorize the multiplication tables, I am so excited to share what we have discovered works for our boys!


Post contains affiliate links.
Let's start with the one that my 10 year old twins have been using and is an absolute life saver!
Times Tales
Hundreds of kids have learned their times tables in an hour using a very fun & easy to understand animated video. While some kids will need more than an hour, the concept is absolutely working for my children!
The Times Tales DVD is a two-part video series that uses stories to teach multiplication to kids. The videos use cute, simple stories that provide students with a "memory peg," allowing them to quickly recall otherwise abstract multiplication facts. As students progress through the video, they'll learn multiplication without even knowing it! It really is that easy!
About the Times Tales DVD – What is included?
Animated video comes on a DVD
CD includes printable worksheets and flashcards
Times Tales Animated DVD & Printable Worksheets
Times Tales teaches kids the upper times tables without rote memorization. Students can simply follow along with the entertaining story. As they progress, they'll be guided into associating the stories they've learned with real math. You can always find the Times Tales DVD at a discount on Educents.com!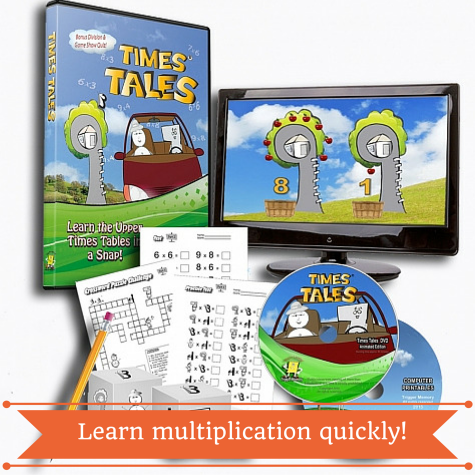 More Activities to Practice Multiplication:
Early Multiplication: Grouping with Legos by School Time Snippets – Kristina and her son practice multiplications using Legos!
Multiplication Rap DVD – Kids discover what multiplication is all about, learn facts through 12, and practice skip counting.
Multiplication Clever Catch Ball – This colorful ball is an interactive way for kids to practice multiplication facts outside or during an organized classroom activity.
Patterned Multiplication Circles by Lemon Lime Adventures – Dayna and her 7-year old use this visual way to learn multiplication. This math craftivity is fun for all ages!
Musical Math with Sue Dickson's Songs that Teach – This program makes memorizing the facts easy, sure, and fun with catchy songs that allow students to master the facts in no time!
30 Multiplication Facts Printable Worksheets – This low-cost packet includes 30 printable worksheets, 143 flash cards, six vocabulary word cards, and a multiplication chart.
A+ Math Multiplication Unit – Build a strong foundation in math with A+ Interactive Math's multiplication unit.