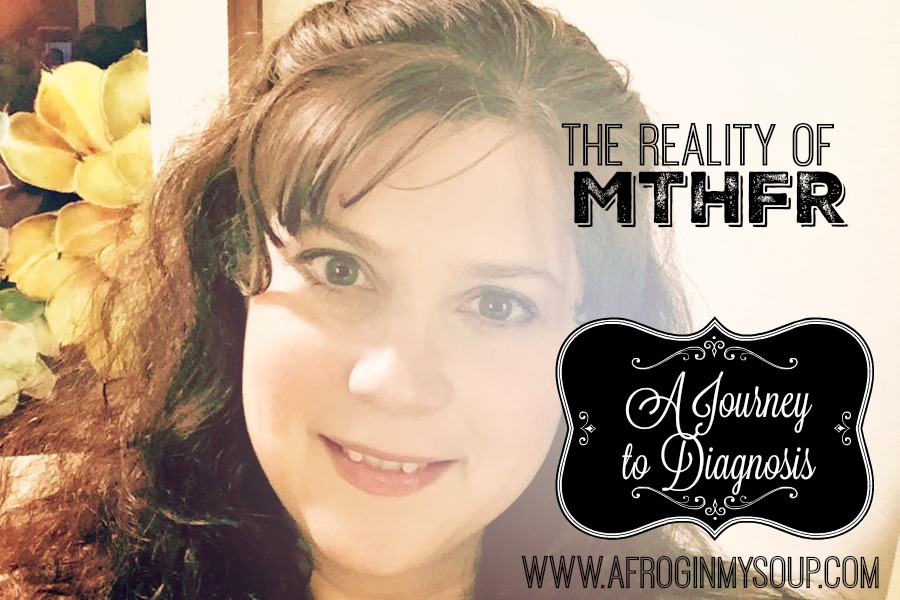 Genetic "issues" and modern medicine seem to have a seriously strange relationship. The medical community as a whole is up in arms over how seriously they should view genetic mutations or other issues such as MTHFR (methylenetetrahydrofolate reductase) . So many examples of this are out there, many have made the news. But for every single one that's newsworthy, there are thousands more that are average everyday people just trying to survive and cope with the hand they've been dealt… and that's IF they have even been diagnosed.
I had no answers.
For years and years I was suffering and unhealthy and continually going downhill. Doctors never ever had answers for me. They made me feel like I was a freak, like there really wasn't anything wrong with me even though I was physically showing extreme symptoms even sometimes. They'd throw some random idea of a treatment at me and send me on my way obviously hoping never to see me again.
I never fought for my health.
I was absolutely bogged down by insecurities about myself. I knew full well that I was not doing well. That there was something wrong. That I was going downhill and that I was not making an ounce of my issues up. In fact, I played them down constantly! I didn't like being seen as a freak. I hated walking out of every single doctor's visit knowing less and feeling worse than when I went in.
Until finally, I saw no hope and truly wondered when doctors stopped acknowledging that the Practice of medicine is by very definition a constantly moving target. When did they all decide that there's one pat answer for such and such symptoms and stop diagnosing each person's symptoms as the individual they are. My history, my genetic makeup, everything about me is not equal to the person next door… so why do these doctors expect us all to fit into some cookie cutter mold that can be treated precisely within such a very limited spectrum of treatment options?
One small reprieve.
I finally decided that maybe some of my issues could be explained by allergies. Thankfully we knew an allergist that had worked absolute miracles with a few of my children when their "asthma" and constant ear infections turned out to simply be massive sinus infections. He attacked it aggressively, was happy to go outside the box to find solutions that worked and was the only possible solution I could think of at the time.
He discovered that while I had no obvious allergies, some of my more severe physically obvious solutions (severe angioedema in my lips and even my eyes) could be attributed to an issue with vitamin B-12. So I began giving myself B-12 injections… two to three times per week… in my abdomen. And while it held off the symptoms to a point, it didn't resolve how it should have. My body wasn't absorbing the B-12 (cyanocobalamin) properly, though it still showed normal levels in my blood… it was a mystery, but I was in a holding pattern at the moment.
So I walked away, still without real answers… again.
I stopped trying to find answers since everyone was only willing to diagnose each symptom individually. I was tired of what little fighting I had done and my depression was at this point beginning to kick in full force, taking away what little mental energy I had left to fight with.
Until I got very sick.
Feeling physically uncomfortable or unwell wasn't an abnormal thing for me, but the day I truly registered that I was consistently barely able to even drink water, let alone eat anything, because I was in so much pain, I knew I had to do something. But I had no idea where to turn.
Finally, I decided to see a Naturopath.
I had exhausted every single other option. I had seen general MD's, ones that specialized in Allergy/Immunology and even Gastroenterology… it got me nowhere. In fact, it all made it even worse.
Since my insurance doesn't cover any alternative medicine, I had to find a naturopath that was at least a nurse practitioner as well. Thankfully, they exist and there are some really good ones out there.
It was still a long road.
But for the first time, someone was listening to me. Someone was determined to figure it out and help me get better! Someone saw the problem for what it was, something deeper that needed to be treated at the source, not just by covering up symptoms while making me feel worse.
This began a long and exhaustive gamut of blood tests. A diet change was immediately suggested to eliminate gluten. Many more obvious things were ruled out by test results. But there was still no solid answer.
Until a random call from my sister one day as I was heading in for yet another follow-up where she insisted that I get tested for MTHFR (methylenetetrahydrofolate reductase) gene mutations…
It was a life changing decision. I had absolutely no clue what on earth MTHFR was (looks funny huh?) or why I needed to look into it. But she was beyond adamant that it happen that day. And the results were beyond informative… positive for one copy (heterozygous) each of C677T and A1298C. Seriously? Both? Sigh…. BUT….
For the first time I didn't feel like a freak anymore.
For the first time, I had something solid to hold onto. A reason for the distress. A general idea of why I was so miserable. In that moment, even though I still had so much ahead of me to work through, I felt like the world had been lifted off my shoulders.
It meant the world to me to finally have some answers!
I'm not going to get into exactly what MTHFR is in detail. I may do so at a later date. But several years after the diagnosis and I'm still trying to sort it all out. I was so toxic, and struggling with so many issues that I still have to be careful how I approach even the most basic treatment protocol. Which cannot be handled with drugs or prescriptions, it's whole foods and bio-available vitamins.
But why did I have to step so far away from "regular" medicine?
Thing is, I still shake my head at it all. That it took so very long. That the medical community still loves to banter back and forth as to whether they should even acknowledge Genetic mutations, diseases, etc… While those of us with serious health issues because of them are sitting by waiting for them to wake up and be willing to look beyond prescription drugs and one single symptom and treat me as a person with real life-altering issues.
It baffles me that the simple obvious fact that messed up genetic code could possibly be seen as anything other than a significant factor in anyone's health. That treatment would begin and stem from there.
That I felt like I was just a number on a page, not a real person, with really significant issues that were affecting my daily life in an extremely negative way.
Because meanwhile, since this is genetic my children are suffering as well…
While the MD's are off debating how much the double affected gene (homozygous C677T) in my twins is or is not responsible for their memory, processing and attention issues; I'm finding real solutions for them by treating it at it's core with vitamins that they can absorb. Vitamins that incidentally when not absorbed do tend to lead to complaints of brain fog or memory issues… (crazy huh?).
This is my story… but it's not over yet.
I am finding that my story is not unique, that there are literally thousands of others out there running into the exact same brick walls I did in getting a truly adequate diagnosis so that we can move forward in life.
Personally, I have taken a proactive form of treatment. One that involved lots of research and appointments to educate myself on all I needed to know about this condition. I found that most of my symptoms (as well as those of the twins) went away or were lessened with the simple elimination of certain foods, and the addition of a bioavailable form of B-12 (methylcobalamin) as well as a careful assortment of other bio-available vitamins as needed for absorption when one has MTHFR.
Since this has become so long, I will attempt to write more specifically on the resources, information and research I have personally done as well as the treatments I use for myself and the twins. Again, this is likely to become a multi-post series so that I don't inundate everyone with too much information at once.
In the meantime, if you find yourself in a similar position, please feel encouraged to step outside the box. If no other solutions have presented themselves to you, do a little research and if you feel it's worth it, ask to be tested to see if you have this genetic mutation as well. For now I will share a couple of resources below for those who want to do their own online research, but remember nothing I share here… as well as nothing you read online is a replacement for getting tested and treated by a naturopath or physician.
Please do not self-treat. While it's always a great idea to start eating better and taking better quality supplements, please also be aware that starting too quickly on bio-available treatments in a body that has been working at a low level or sluggishly for too long can have some rather unpleasant consequences.
Links for More Information:
I am going to be very specific with my links because I know how overwhelming all this can be and that is not my intent here. If you have any questions, please feel free to use my contact form to email me. Please note that symptoms are extremely varied and really never look exactly alike in any two people. Also note that not all symptoms are listed in these links and some people with the mutation never show symptoms at all (typically those with a single heterozygous mutation – like my husband).