Have you heard of The Old Schoolhouse magazine? Or their sister membership site SchoolhouseTeachers.com? I'll be talking more about them and what they offer at length in the future, but if you've ever considered them or are looking for an all-in-one resource that offers everything from planning to every single subject taught in a variety of methods, you'll definitely want to head over there now to check out their 50% off sale (make sure you use the code SPRINGSALE to get the discount!).
What I love about having a memberhsip with them is that it fits in with pretty much any homeschool style your family may use. We lean pretty strongly toward the Charlotte Mason method ourselves, but there's something for everyone.
Post contains affiliate links: these links cost you nothing but may offer us a small commission to help us keep this site going.
This is a deal that you'll definitely want to grab up before it ends. We have been using our membership in far more ways than I ever imagined this year and I highly recommend it. I'll get into a little more about the ways we use them in another post, but really don't want you to miss out since the sale is only available through May 31, 2017 and it's the lowest price I've seen for their membership!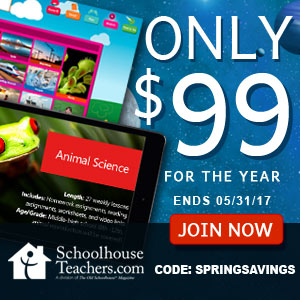 You can save 50% on both the Ultimate Annual membership or the Ultimate Monthly membership. Personally, I recommend the annual since it's the least expensive over time. The great thing about this offer (and probably my biggest question up front) is that you will be locking in your membership at that price. So when I renew next year, it will be for the same price I signed up for this year!
Have any questions? Please feel free to contact me or leave a comment and I'll be happy to answer.
So what's included in the membership?
Countless benefits, but here's a few details….
Over 300+ homeschool courses
Preschool – 12th Grade
Planning + Recordkeeping resources/memberships
World Book access and tools
Much much more!
I encourage you to visit the site and check out all the information for yourself. As I mentioned, I will soon be talking about ways we incorporate some of their courses and planning into our everyday schooling. In the meantime, take advantage of this deal and feel free to ask me questions.