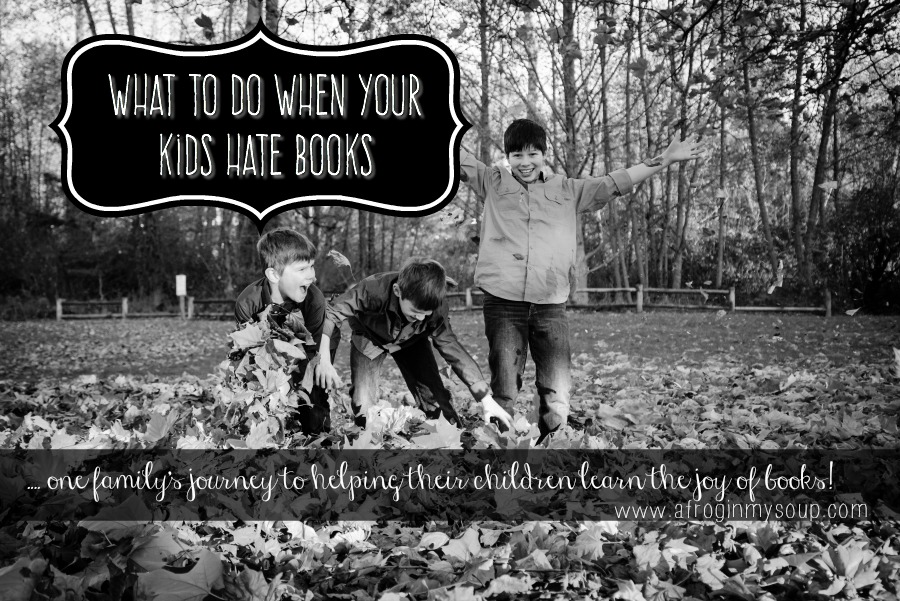 I think I was born with a book in my hand. Ok, so granted, that's obviously an exaggeration but it doesn't feel all that far fetched. From the time I could possibly begin reading, I devoured almost everything I could find. I find it amusing that I distinctly remember my mom at one point limiting how much I could read every day because she couldn't keep up with how quickly I consumed books.
As a mom myself, though, it was absolutely heartbreaking to discover that my children's hatred of books. They hated reading. Wanted absolutely nothing to do with it. They weren't just "reluctant" readers, they were "refusing" readers. I can assure you, there were not notable "mistakes" made on my part.
As I've learned more through the years, I believe there are several different reasons (depending on the child) for this. But most importantly, I believe there are ways to overcome it, but they don't necessarily correspond with "popular belief".
I'm not going to give you all a big lecture on what to do or not to do, or 20 tips on the "right" and "wrong" ways to help your child become a reader or learn to love reading. Why? Well, a couple reasons. I personally do not believe there will ever be a huge list of ways to "correct" a child's interest, or lack thereof, in reading.
Here are the two simple things I do believe make a huge (and I do mean huge) difference in seeing children move away from outright "hating" books – which ultimately is my personal goal.
Have plenty of interesting books available but Don't push.
This sounds totally counterintuitive, and I do understand that especially for homeschool families our children really do have to spend some time reading no matter how much they detest it. I get it. Every single one of you needs to discover what works best for your children individually. Even within your own home, it's likely that each child will need a different approach. Offering silent reading and "reading" class options from two separate piles may actually be the perfect fit for one child but not the greatest for another.
Have read aloud time. Every Day.
Sounds simple. It's not. It needs to be intentional and I absolutely do not mean only for small children and younger grades. One of the most satisfying parts of my day now is spending that time with my children and a book.
It should be said here that I read out loud a lot during the day for various subjects for the boys' schoolwork. For the twins (4th/5th graders) it's both their literature and most of their other subjects and even for my 7th grader, we read his literature together. My situation looks a little different than most moms simply because a few of my children do have a few processing, short term memory, dysgraphia and other issues that can drastically interfere with their learning if not approached a certain way.
I say all of that to point out that none of this is the type of reading I feel is essential for reluctant readers. These children need a reason to love books, and I don't mean just a story before bed. While that's a great way to get kids to sit and listen to a book, and even can help foster a positive outlook on reading, I feel it's important that they spend time during the day with this form of recreational reading.
What does this look like?
I personally like this time to be close to lunchtime. Since we homeschool, that seems to be when everyone is in need of a little "downtime"… especially mom (ahem). For families who don't homeschool, right before or after dinner is a great time to do this.
Obviously, this is not a time for any form of electronics (with one possible exception – we'll get to that in a moment) – so television, computers, etc. are all turned off.
This is deemed "quiet" time so we do ask the children to find a place to be – but it doesn't mean they have to simply sit there quietly and listen. That would be absolutely counterintuitive when it comes to active children and/or kinesthetic learners especially! Having a comfortable place in the room where you're reading where they can sit and play with play dough, color, build with legos, draw, etc. Simply have a selection available for them (again you know what your child would likely be most interested in) – in my house this would be our rather large "coffee" table with legos and play dough for them to choose from.
Now that we've established our two basics, I challenge you to think about what I've covered here and consider what that would look like in your home. Obviously, a lot of that answer is going to come down to the ages of your children and the overall schedule of your family. Please feel free to hop over to this continuation post where I offer some specific answers to the questions that you're likely having right now, as well as where to start with this. I promise I'm not going to leave you wondering!
In the meantime, please consider my challenge and feel free to even do a little research yourself… think about the books you enjoyed growing up. What did you love about reading? What did you hate? Are there any particular things you know your children would do well with or struggle with? How much time do you have to do something like this each day? (Hint: I suggest 30 minutes to an hour – but even 15 minutes would be worth it.)
This is yet another very intentional thing you would be doing as a family, so it does require a little bit of planning. Thankfully it is truly a fairly simple thing to add to your family's schedule… and just in case you're wondering, it's never too late to start!