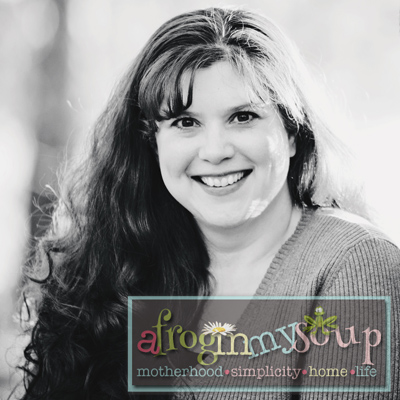 Welcome to A Frog In My Soup!  My name is Shera and I am the mom behind the "Soup" or the "Frogs" whichever you happen to be reading about. My hubby and I have been married for 24 years. We have 6 sons that frequent these pages: CJ (21), Salesman (19), Tater (18), J-Man (14) & The Twinkies (or Tweebs, or Twinadoes, depending on their mood) – Bugs & Monkey (11 & 11).
This blog is a little piece of my life, a large piece of my sanity with a lot of my heart thrown in. There are days I laugh and days I cry and many more days in between, but through it all I try to remember to enjoy them while I can. You can find out more about me and my "Frogs" by clicking on the tabs above 🙂
I began blogging in 2006 as a simple way to journal my life with 6 boys.  In essence, it is still just that!  Although I have never actually had a frog in my soup, it is a funny illustration of the daily occurrences that I do experience as the mom of 6 boys (is it 7 when I include the hubby?).
The blog world is much different now than it was when I began nearly 11 years ago. Back then there were mere thousands of us and most of us knew each other in an "online mom community" sort of way. It was fun and fulfilling in a way I can't quite put to words. Writing was often my anchor to sanity as I struggled to parent my 6 boys during those insanely fast paced early years.
Our youngest 2 are twins who were premature, so due to heath risks for them, we didn't get out much for the first few years of their lives. The twins were about 6 months when I discovered Blogspot! I've moved on from there of course and my journey includes an adventurous ride through being a review/giveaway blogger and blog designer to nearly letting it all go… I would never have guessed then that I'd be where I am today.
Fast forward 11 years….
Now, two are graduated (one is apprentice in a trade), one is a Senior in HS, one is in 8th grade and the twins are in 5th/6th grade. There is one distinct difference now… in addition to everything else, I homeschool all of the kids now. You can read all about our journey into homeschooling here.  You're also much more likely to see more articles about homeschooling and curriculum and tips for homeschooling kids with challenges.
I truly enjoy the ability to share my life, experience and thoughts with you and I'm happy to have all of my faithful readers along for the journey!  I hope that you find here much food for thought as well as great support, encouragement and information for your personal journey through motherhood.
Grab a cup of coffee or tea…
There's a lot to discover here! I encourage and welcome you to go through my archives, as with anything in life, you never know what kind of treasure you may uncover there. I also encourage you to subscribe to A Frog In My Soup for all the latest news and giveaways.
I do love getting to know my readers so please feel free to comment or contact me anytime!  Everything here is original and written by me or attributed to it's author.   Everything here is copyrighted, from the posts to the images, and may not be reproduced or otherwise published without my permission.
Thank You and God Bless!
Shera
To read my privacy policy please feel free to click here.
To read my disclosure policy, please go here.
To read my giveaway policy please go here.
SaveSave
SaveSave